Roman Fedortsov, a Russian fisherman works as a trawler at the Murmansk port city. Earlier 2016 he started posting on his twitter account some unusual photos of sea creatures that pulled up in nets. These mysterious deep sea creatures photos has been never seen before now making huge buzz on social media.
While seeing closely on these photos we can imagine how much diversity is in the oceans hidden from us. This mysterious ecosystem of the deep sea has so much nightmare below its surface for humans who still believes aliens are an imaginary creatures.
Murmansk-based Roman Fedortsov has unveiled these creepy sea catches, from fish with dagger-like teeth eight-legged arthropods. Let's have a look at these terrifying monsters:
1-Frilled Shark
This sea creature looks alike elusive eel shark with insanely frightening teeth.
2-Horrifying Black Fish
Fedortsov named this horrifying fish with huge teeth as "Black Scabbardfish".
3-Creepy Ghost Shark
The fisherman also discovered the creepy chimaera. This fish also known as "Ghost Shark". Their eyes glow only when exposed to light.
4-Shark in Deep
5-Gigantic Fish w/ Red Eyes, Drooling Lips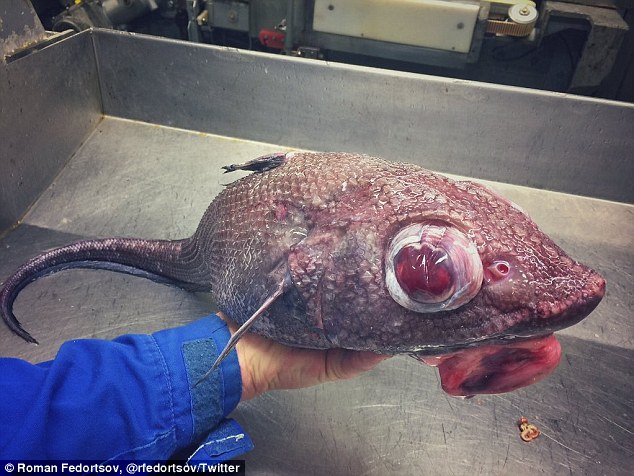 This creepy fish with swollen red eyes and floppy red lips, was known as type of grenadier. They are also known as rattails and stay deep below the surface from Acrtic to the Antarctic.
6-Gigantic Sea Spider
This gigatic sea spider with huge legs roughly the size of a human hand
Below are some of the unnamed monstrous sea creatures:
7.
8.
Well no one knows what it is and he named it "Who are you?"
9.
10.
11.
Not all catches are fishes, as deep sea fisherman mentioned this mysterious this as "'I'm watching you".
12.
Now you must be think twice before ever dipping your feet in the beach again.
13.
Here is another beautiful creatures and he named it "noting its 'beautiful' color"
14.
15.
16.
17.
18.
19.
20.
It seems that someone has flattened this fish.
21.
22.
This monster is scary and terrifying as hell.
23.
Image credit: Roman Fedortsov