Which are the longest Caves in the world?
Caves are underground potholes that form by the gradual erosion of natural minerals and rocks. There are several kinds of caves that form over hundreds of years. Some are situated on dry land between mountains. These are called dry caves. Dry caves may consist of spectacular looking minerals lined on the walls of the cave. They may also consist of unique minerals that are rarely found. On the other hand, some caves are situated under the ocean, sea or river. Such caves are usually deep and a boat, canoes or diving services have to be used to enter these type of caves. These caves are known as underwater caves. Underwater caves might consist of various different fish species and much more.
Where is the longest cave located?
In the top 10 longest caves list mentioned below, We have classified these caves with respect to their lengths.
10-Holloch Cave, Switzerland
The Holloch cave is one of the few caves located in Switzerland. It stretches over a huge distance of 200.4 km or 124.5 miles. This landmark's discovery happened in 1875. Till 1970, it maintained its title as one of the longest caves in the world. However, it still marks its fame by being the 2nd longest cave in Europe. The linings of this cave's walls are mainly composed of limestone and composite materials. It is one of the deepest cave in the world. It's location in a hilly area gives it a very long depth of 938.6 m or 3079 feet.
9-Fisher Ridge Cave, Kentucky USA
Stretching to a length of 200.5 km or 124.6 miles, the fisher ridge cave system is located close to the largest cave in the world i.e. Mammoth Cave system. It was first discovered in 1981 by the National Speleological Society. Researchers believe that upon further discovery, it might be linked through passageways to the Mammoth Cave. Fisher Ridge Cave ranked 1st among caves in Kentucky.
8-Clearwater Cave, Sarawak, Malaysia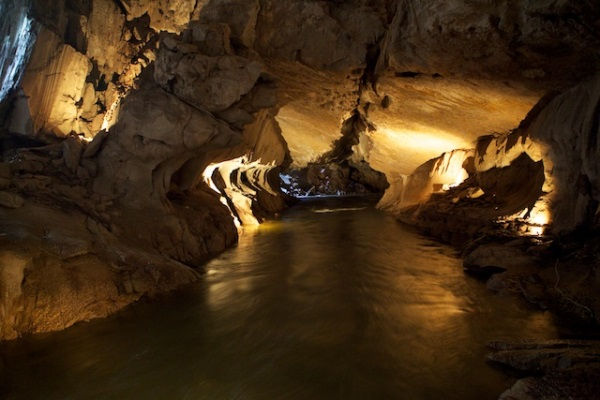 The Clearwater cave is located in Malaysia. It has a length of 215.3 km or 133.8 miles. It was first discovered in 1977 and till the present day, more and more passageways are being discovered. There are two ways that link to this cave. One way is by the means of a boat in Melinau River and other way is walking on foot on a 4 km track. It is renowned as the most interconnected cave consisting of a labyrinth of complex passageways.
7-Lechuguilla Cave, Eddy County, New Mexico
This cave ranges to a length of 222.6 km or 138.3 miles. Due to its bizarre geographical terrain, it's not open for public visitors or tourists. It also earns its fame for being the deepest cave in United States. It has a depth of 1604 feet. The cave was named after a peculiar plant species at the opening of the cave called  "Agave Lechuguilla." The untouched, spotless and shiny condition of this cave makes it a wonderful cave to look at though only in pictures and documentaries. Lechuguilla cave is the deepest cave in United States.
The cave has yet to be completely explored and mapped. Right now, only 156.5km or 101 miles of Lechuguilla have been mapped and explored, with no end in sight. Till yet the deepest part of the cave measured is 497 meters or 1,632 feet.
6-Wind Cave, South Dakota USA
This cave is renowned for its status of being the first cave to be established into a tourist spot and national park in 1903. The length of this cave stretches approx. 229.7 km or 142.7 miles. Surprisingly, on average, four miles are added to the discovered passageways of this cave each year. The cave has an area of 33,847 acres, lined with calcite and other minerals. This cave earns its name due to its small openings; the small openings mean that air pressure difference from the outside causes rush of cold winds into the large cave with narrow openings.
5-Optymistychna Cave, Ukraine
This cave is composed of Gypsum extending to a length of 236 km or 146.6 miles. Researchers have often called this cave as the maze cave. This is because of the puzzle of passageways of length 230 km twisting around in an enclosed area of just 2 square kilometers. This complex labyrinth of passageways was discovered in 1966. Due to its nomination as a natural wonder of Ukraine, it has been an attraction for explorers and expedition teams.
4-Sistema Ox Bel Ha, Quintana Roo Mexico
This cave's discovery came in the late 1990's i.e. 1996. This cave comes in the category of underwater caves. Amongst underwater caves yet discovered, it is considered largest underground cave in the world and ranked 4th in the list of longest caves. It extends a length of 257.1 km or 159.8 miles. This cave largely constitutes limestone.
3-Jewel Cave, South Dakota USA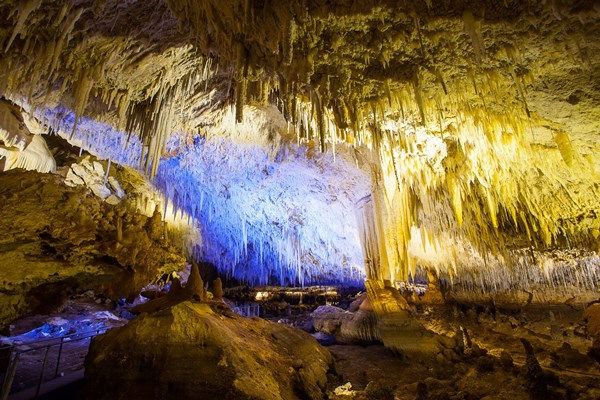 This cave gets its name "Jewel" due to the shining calcite crystals that it consists. It extends to a length of 289.8 kilometers or 180.1 miles. The area of this cave is approx. 1273 acres. This cave was given the status of a national monument in 1908 and since then it is a great tourist attraction in United States. As an estimate, there were 77,146 visitors in 2011. This cave gets its main attention due to its lighted passageways. Moreover, the frosted-looking shiny crystals attract tourists from all over the world.
2-Sistema Sac Actun and Sistema Dos Ojos, Quintana Roo, Mexico
This cave is classified amongst the underwater caves. First of all, the name of this cave network is to be clarified. The name is in Spanish and translating it into English makes its meaning as the "White Cave System." On the other hand, Dos Ojos means "Two Eyes" referring to the openings of the cave. The underground depth of this cave network reaches up to 119 meters. The cave length spans to about 335 km or 208.2 miles. This huge length makes it 2nd on the list of the top 10 longest caves in the world.
1-Mammoth Cave, Kentucky USA
The longest cave system in the world is right in the US in the state of Kentucky. As the name "mammoth" suggests, this cave is by far the longest cave yet discovered! It extends to a length of 651.8 kilometers or 405 miles. It is almost doubled in length to the 2nd longest cave system. Not only its length but also it has an extensive area stretching out up to 52,830 acres. This cave has an extensive layout of several passageways and is totally made up of limestone. The history of this cave dates back to almost 6000 years! It stands out amongst all the caves regarding its extensive length and considered as biggest cave in the world. This is why it tops the list of longest caves in the world.
And the bonus:
Hang Son Doong Cave, Vietnamese
One of the largest cave in the world is 5 Km long, 200m high and 150 m wide. It is also known as "Cave of the mountain river". It is so big that it has its own forest, river and climate. One of the great tourist attraction in Vietnam this cave was first discovered in 1991. This cave possess the largest cave passage system in the world by volume. Hang Son Doong Cave open for tourist between February to August as after August rain raises the river levels and make the cave inaccessible.
World's Top 10 Longest Caves
| | | | | | |
| --- | --- | --- | --- | --- | --- |
| Sr No | CAVE NAME | COUNTRY | LENGTH (Miles) | LENGTH (KM) | DEPTH (M) |
| 1 | Mammoth Cave | United States | 405 | 651.784 | 124.1 |
| 2 | Sistema Sac Actun | Mexico | 208.302 | 335.23 | 101.2 |
| 3 | Jewel Cave | United States | 181.89 | 292.724 | 220.4 |
| 4 | Sistema Ox Bel Ha | Mexico | 159.783 | 257.146 | 34.7 |
| 5 | Optymistychna Cave | Ukraine | 146.644 | 236.001 | 15 |
| 6 | Wind Cave | United States | 142.75 | 229.734 | 193.9 |
| 7 | Lechuguilla Cave | United States | 138.3 | 222.572 | 488.9 |
| 8 | Clearwater Cave | Malaysia | 133.804 | 215.337 | 355.1 |
| 9 | Fisher Ridge Cave | United States | 125.25 | 201.57 | 108.5 |
| 10 | Hoelloch Cave | Switzerland | 124.536 | 200.421 | 938.6 |