What are the most dangerous jobs in the world?
There really are several methods to recognize professions that are dangerous. Different methods have been used to identify which jobs are more deadly. One method is count the number of fatalities during work. Mostly these deadliest jobs are outdoor jobs where workers have to perform his/her duty in tough, stressful and risky environment. You have to deal with job stress while risking your life. These most dangerous professions are not a piece of cake for a rookie. One need a special training and preparation to do these most hazardous jobs.
Based on the number of fatalities and severe risk to life we have enlisted top 10 most dangerous jobs in the world.
10-Tower Climbers
The most fearless grinders you have never heard of. These are the Tower climbers who install and service those sky piercing Cell towers out there. Tower climbing is the hardest job in the world. Tower climber's climb on a cell tower and install, repair or replace the equipment. Being a Tower
climber is not that easy. You have to stay away from homes. Working in tough and harsh weather conditions make this job more risky. Falling is the main cause of fatalities in this job. According to OSHA Tower climbing is the most dangerous job in America. Tower climbers risk their lives to provide us a smooth communication.
"The next time you use your mobile device, thank a Tower Climber first"
9- Garbage Collectors
Garbage collectors have to be one of the most hazardous jobs. Handling with sharp objects,  contaminated and biological waste, Hanging on the backs of trucks and Lifting  all day long. These Garbage collectors have no respect in society. People treat them like jokes while they risk more, get paid less, and are called as "garbage men". Being a garbage collector is considered one of the most dirties job out there.
According to a study by Solid and Hazardous Waste Management Center, Florida Garbage collectors ranked 3rd most dangerous jobs in United states. There are some astonishing stats of injury among garbage collectors. On average collectors are injured seven times more than other workers.
8- Farmers & Ranchers
Working in the farms is one of the oldest occupation. Latest technologies has contributed so much to make this job safer and easier. Transportation of heavy machinery and frequent contact with equipment causes the injuries and fatalities in this hard job. Getting trampled, bitten, kicked and bucked are few potential threats faced by agriculture workers. Being a farmer ranked 8th most dangerous Jobs worldwide.
7-Heavy and Tractor-Trailer Truck Driver
The trucking industry is considered as the lifeblood of the country. Heavy and tractor-trailer truck drivers usually do transportation of goods from different locations. Being a truck drive isn't as easy as it looks. Despite the fact that they may enjoy the scenic countryside but driving for long hours on the road is most difficult and stressful thing to do. Accidents are the main cause of deaths in this job. Long hours driving, sleeplessness, slippery roads, snow falling, Busy roads, and harsh weather conditions are the major reasons of traffic accidents.
6-Lineman & Power Workers
Lineman and power workers are responsible for installing, maintaining and repairing of high power distribution and power lines.
Playing with "hot wires" is a normal thing for a Lineman. This is one of the most daring job in the world. Being a lineman is not the job of faint hearts. Working on high power lines, falls, burn and electrocution are constant danger for power workers. Better safety equipment has reduced the fatalities and injuries. The invention of fire proof clothes also cut down the injuries to a large extent.
Got Power? Thank a Lineman
5-Ironworkers
Ironworkers involved in fabricating, assembling, erecting and installing Iron and steel beams in building construction and bridges.
Ironworkers face many dangers during their job. According to the U.S. Department of Labor Ironworkers are suffering the highest body count. Majority of them are falling from heights. Ironworkers install steel and iron beams using cranes. Sharp metal brings with it the danger of cuts. Falling is one of the most significant dangers to Ironworkers. Ironworkers has highest injuries count in all occupations.
By adopting all the safety measures described for Ironworkers, The risk of injuries and deaths are minimized to a great level.
4-Roofers
Roofers are responsible for fixing and building rooftops of offices and homes. Working at height is always a dangerous thing to do. These workers often fall down from heights.  Along with other fatal injuries, fracture is the most common injury in roofers. Despite of equipment failure, sunburn, heatstroke and hammered fingers, falling is the main cause of injuries. Roofer is one of the most injury-prone occupation and considerably fourth most dangerous jobs in the world.
3-Aircraft Pilots and Staff Engineers
Pilots are highly trained specialists who fly aircrafts or helicopters to transport out different variety of tasks. These aren't regular airline pilots. As the third most dangerous occupation in the world, these commercial pilots and independent operators involved in crops-dusting, seed spreading for reforestation, monitoring traffic, testing new aircraft, tracking criminals flying passengers and cargo to areas not served by regular airlines, help firefighting and rescuing injured people.
Commercial pilots face other types of job difficulties. This include test pilots who do experimental flight to check the airplane performance is one of the dangerous thing to do. Crop duster pilots can be exposed to toxic chemicals, potential risk of hearing loss may occur due to long expose to noise and many more.
2-Fishers and Fishing related Workers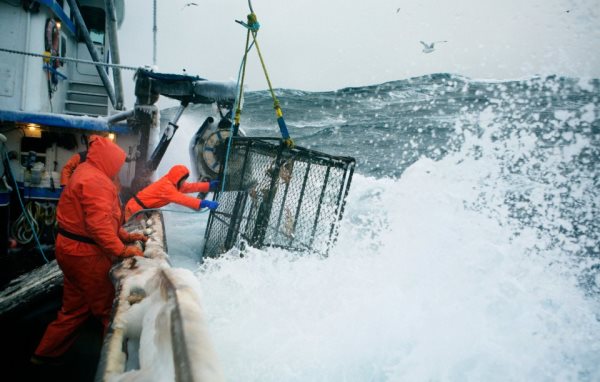 Forget the idea of leisurely fishing. Fishing for a living is a dangerous job to do. Fishing has consistently ranked as the most deadly occupation since 1992. There is a heavy dose of danger in this job. Workers in this occupation face life-threatening hazards, harsh weather, vessel casualties, transportation and diving incidents, slippery ship decks, falling overboard and much more. These fishermen find themselves in unsafe circumstances at every turn. All these factors increases this profession mortality rate. These sea-faring workers ranked second for the most dangerous occupation in the world.
1-Logging Workers
Being a logging worker is one of the most Daring Jobs out there. Logging workers crop a large number of miles of woods every year. The timber they pick supplies the raw-material for industrial goods and a lot of consumer-goods. Logging can be hazardous and is challenging. Most loggers possess a high-school degree. They access it-the-job-training to understand woods surroundings also to find out the best way to use machines that are used for logging.
These loggers usually pick, transport and cut timber to be processed into wood products. A logger have to perform in Intense surroundings that are inhospitable, as well as the work is usually infrequent and less paying.
The Job: Cut down and trim trees for transportation and sale.
The Dangers: Dropping trees, cutting equipment, hard territory.