Everyone want to have an expensive smartphone. Which smartphone you have thought is the most expensive one? An Apple's iPhone or any Samsung premium limited edition series? Well, the answer is no. These phones just cost you few hundred dollars. The most expensive smartphones ever built can cost you in millions of dollars. Oh Yeah! You heard that right. A million dollar just for a single mobile phone. Seems crazy but there are people in the world who are blessed with money one can only imagine and they fulfill their passion by buying expensive smartphones. For a normal person these luxurious smartphones cost more than buying a car and paying college tuition.
These costliest smartphones come with some unique features and outlook like build with gold and platinum and studded with diamonds and rare gems. Let's have a look at the some of the world's priciest smartphones ever made.
10-Eclipse – Desiring Arcadia – Onyx Alligator
Price: $96,671
Goldvish is one of the most expensive phone brand in the world and popular in making luxury phones. Comes with the latest version of android this phone is brilliantly designed with some precious and handmade material. The specs are awesome as it features a 5.5 inches scratch-resistant and capacitive touch screen, Snapdragon Quadcore Processor, 64GB storage, 13MP primary and 5MP front camera.
The phone's chassis is made of with black color outlandish alligator leather. 320 brilliantly cut diamonds with a white colored Baguette cut diamond in rectangular shape is encrusted on the phone. This is yet another world's most expensive mobile with a price tag of $96,671.
9-Dior Reverie Haute Couture
Price: $116,225
Dior is a popular fashion brand in the world. Dior Reverie haute couture is yet another luxury android smartphone in the list of most expensive smartphones in the world. The phone gives a pleasant look with its design. With a multi touch LCD screen, chassis and faceplates are encrusted with diamonds, gold and pearls. Phone features a 5 MP camera, 3G, Wi-Fi, Bluetooth connectivity, Dolby sound and 12 days standby battery. Reveries Haute Couture case is been made of with 18 carat white gold. There are 1,539 flawless diamonds and 46 mother of pearl iridescent pieces are studded at the phone. The price of the phone is set at $116,225.
8-Ulysse Nardin Chairman
Price: $130,000
This limited edition Ulysse Nardin Chairman is not the typical luxury smartphone you have seen here before. Beneath the shiny case lies an android driven smartphone with some powerful and high end features.  The phone is equipped with 8 megapixel camera, fingerprint reader, an i.MX processor and 32 GB of internal storage. The connectivity covered with 3G, HSPA, Bluetooth, Wi-Fi and USB.
Besides the specification part, the phone is equipped with an interesting innovation, The Kinetic rotor system attached at the back side of the phone. It is used of passive charging of the battery.
Phone is available in various colors from stainless steel to pink gold and the faceplates are encrusted with 3,000 hand cut 17 karat diamonds. Every series of these phones are limited to only 1846 units as this is the year when year Ulysse Nardin was founded.
The price of the phone ranges from $14,000 to $47,000 however you have to pay $130,000 for a special Diamond edition.
7-Savelli Smartphones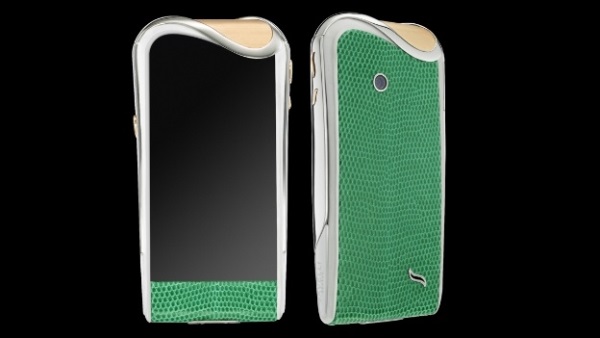 Price: $250,000
The first expensive android phone of its kind, Savelli emerald night and Savelli Emerald Iguana are launched back in 2014. The phone features 18 carat white gold studded with some precious diamonds, 400 emeralds, sapphires, and handmade Iguana, ostrich and python leather. This android powered phone is specially designed for women. As per the brand's CEO this phone should uplift the haute couture. The phone initial price is set as $250,000.
6-VIPN Black Diamond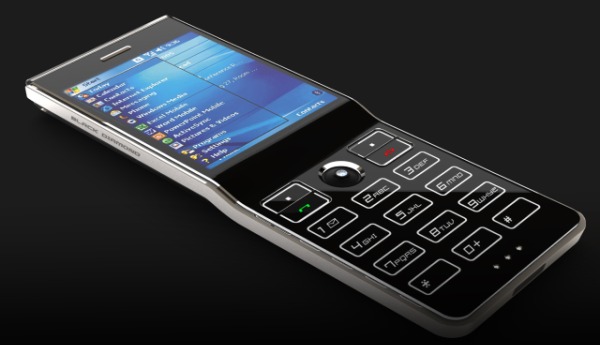 Price: $300,000
This is may not be the fanciest looking phone in the list but it is still the priciest smartphone ever made. The phone features only two black diamond's larger to the 2 karats. Larger diamond is encrusted at the back while smaller is placed at the front instead of a joystick. Phone operates on windows mobile 5 with a 2.1 inch touch sensitive screen, 2GB SD card and Wi-Fi. These specs and design may not be as attractive for many but it still cost around $300,000.
5-Gresso Luxor Las Vegas Jackpot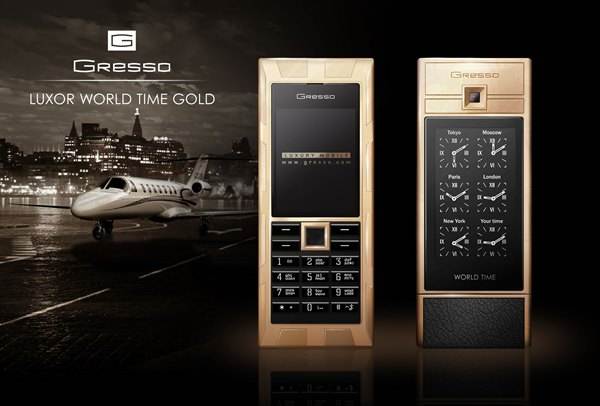 Price: $1 Million
Gresso is well known as the manufacturer of the world's most expensive smartphones. "Luxor" is yet another attempt of creating a luxurious cell phone. The phone is made up of 18 karat solid gold, sapphires, black diamond and a 200 year old African Blackwood. The phone will cost you around 1 million dollar and was manufactured in 2012.
4-Diamond Crypto Smartphone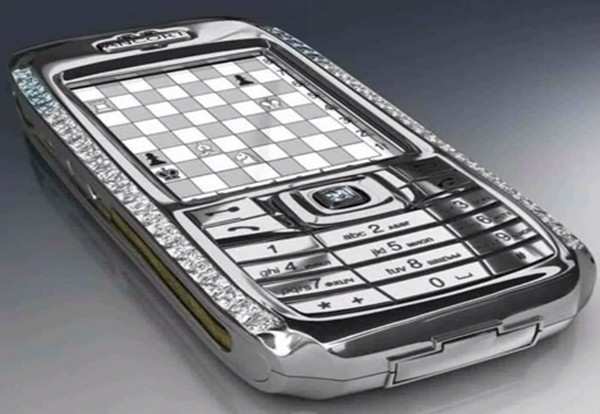 Price: $1.3 Million
As the name suggest it is a smartphone designed with some precious diamonds studded on it and proving extreme encryption so that your conversation and information can't get leaked. The phone is built on windows CE based platform and designed by Peter Aloissn. Besides the encryption feature the main thing is its design. The phone covers over 50 diamond (10 of them are blue) and it cost 1.3 million dollars.
3- iPhone 3G King's Button
Price: $2.5 Million
Though it is an outdated smartphone but it is the first ever most expensive iPhone designed and made. This iPhone is designed by a Peter Aloisson and Australian jeweler. The smartphone is bordered with white gold line studded with 138 brilliantly cut diamonds. The most significant feature of this iPhone is the home button, which is also called "King Button" as it features a rare 6.6 karat diamond. The iPhone comes with a whooping price of $2.5 million.
2-Stuart Hughes' iPhone 4 Diamond Rose
Price: $8 Million
Among the most expensive smartphones this iPhone 4 diamond rose is the most expensive iPhone ever made. This is a customized iPhone with 500 of precious flawless diamonds encrusted on it, which totals 100 ct. 53 diamonds are embedded on the back side of the iPhone in Apple logo. The navigation is button is made from platinum which holds a 7.4 karat single cut pink diamond. The back side is made from rose gold.
This luxurious iPhone 4 comes with a starring price of $8 million. Only 2 units of this costliest iPhone has ever been made.
1-The Black Diamond iPhone 5
Price: $15.3 Million
U.K. based craftsman Stuart Hughes created an iPhone 5 out of gold and diamonds. The phone back case is totally hand made with solid gold. The edges of the iPhone 5 are studded with 600 white diamonds. 53 diamonds are included in Apple logo on the back side of the phone. A 26 carat rare black diamonds is placed as a home button. One of the world's highest price mobile ever made. This luxury iPhone was built in 2013 with a whooping price tag of 15.3 million dollars.