Each one of us knows what a prison is used for: to lock up the lawbreakers and offenders. Unfortunately, some peace offenders and law breakers won't give up on their brutal and negative activities even after being locked up. They will use every possible way to get their escape from prison and continue their peace breaking activities. They can even go as far as murdering correctional officers on the premises to voice their frustration of being locked up! For such notorious prisoners, Supermax prisons are designed and built by department of corrections to counter their evil-genius ideas to get out of the premises. Such prisons are carefully laid out, technically supervised and watched by a huge number of guards 24/7. In the following list is covering 10 most secure prisons ever built and currently functional on this Earth:
10-Fuchu Prison, Japan
This prison was originally built to host the leaders supporting communism and those who played part in the Korean freedom movement. This prison has an astonishing capacity for prisoners i.e. 2842. The need for such a large prison was realized after the destruction of the ex-largest prison of Japan by an earthquake. This prison is intelligently divided into several sections. For instance, the foreigner inmates section, mentally disabled prisoners etc. This enables each type of prisoners to be kept with their peers and to avoid any fight within the facility.
Unfortunately, despite of the intelligent planning, the prisoners held at the Fuchu Prison face harsh conditions that are hard to cope for any prisoner. No heating or air-conditioning, having water-like non-nutritious diet consisting soup and rice just 2 times a day and poor sanitation conditions give it a bad reputation. A somewhat brighter side of this prison is that it contains a vocational training center for the moral training of its inmates.
9-HM Prison Belmarsh, England
It is one of the highest security prison in UK. HM Prison is situated in Woolwich. It was situated in April, 1991. HM Belmarsh has a capacity of 855 inmates. It is used to house those prisoners that are related to severe terrorism related activities. This prison is built as a mixture of both Supermax and normal cells. It is based on an infrastructure of 4 residential blocks. The residential blocks are divided into 40% solitary-confinement cells whereas the rest of the 60% are double-bed cells for the "better" prisoners. Due to the extreme, harsh conditions at HM Prison, there are several recreational activities introduced.
Those prisoners with a  tendency to think for suicide are given special psychological treatment. Moreover, a sports room, gyms, educational center and workshops offer multiple opportunities for all types of inmates. According to Wikipedia, the HM Belmarsh has a contract with Charlton Athletic F.C. for the coaching of prisoners. Sports offered at this prison include badminton, volleyball, soft tennis, weight lifting, basketball and some sports for the above 50 and 60 years old. Formal education options include arts, engineering, cooking, maths, music and much more. Last but not the least, the prison offers a well-established library with 3 sessions of 20 minutes per week allowed to inmates.
8-San Quentin State Prison, California
This state prison is more than a century old! It was established in 1852. This prison mostly hosts the death row inmates and has facility of execution by orders of capital punishment. This prison has a strong framework and infrastructure based on 1.75 square kilometers. It employs almost 1700 staff members and spends approximately a whopping $210 million on its services and inmates hosting expenditure. It is California's largest prison with an inmate capacity of 3082. However, this facility has usually been overcrowded with an average overpopulation of 37% or more. With the latest statistics from Wikipedia, in January 2016's survey, this prison was hosting 3,682 inmates.
However, for the better-behaving inmates who are not on death row, this prison offers some good programs. For example, the inmates who are well behaved and have a good baseball talent are allowed to have matches from outside teams within the prison facility in summers. For the inmates who wish to have formal studies, this prison has an exclusive educational system to offer. Named as Prison University project, it offers official degree granting study offers for both moral and formal education of willing inmates.
7-Arthur Road Jail, India
This prison is located in Mumbai, India. It holds the position of a "Central Jail". News of being transferred to this prison sends chills down the spine of even the most strong inmates.
This prison has earned its name as a place of filth, smell and harmful conditions for human habitation. It was built with a holding capacity of around 800 but it holds round about 2000 inmates at a time. This exceeding amount of inmates quite clearly explains the conditions.
However, keeping this aspect aside, on the security aspect, this prison is a Supermax security prison. It is believed to have walls that don't get destroyed even by average bomb.
6-Portlaoise Prison, Ireland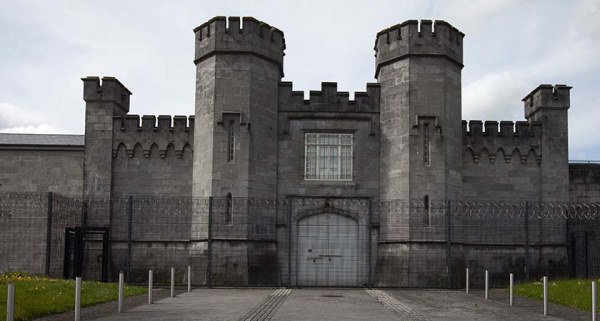 Anti-aircraft guns, accurate and precise rifle-armed men ready to shoot on guard towers and a barrage of door escape sensors and cameras pointing at almost every possible angle in the facility; all these features give it more a look of a border control agency rather than a prison! This prison came into operation in the late 1830's. It has an operational capacity of 399 prisoners, however, considering the danger associated with every prisoner, the numbers are kept far below the capacity. The ones captivated here are the most serious drug offenders, serial killers and ruthless rapists who will stop at nothing. Since it hosts such high profile criminals, there have been numerous attempts of external bombings to initiate a massive breakout. This is why the region above the prison is labelled as a "NO FLY ZONE" to ensure Supermax security!
5-Qincheng Prison, China
This prison was established in the late 1950's. It was built mainly for the purpose of captivation of the active participants of the famous Democracy Movement. This movement lasted for several decades until the 90's. This prison is built in the northwest of the capital of China i.e. Beijing. It was built with the help of the Soviet Union. This prison is marked by its special feature of being enclosed in a valley. There's no escape route except the main gate which is heavily guarded. If a prisoner tries to escape from the back of the premises, he/she will end up in the enclosed valley with nowhere to escape. This Supermax prison is guarded by approx. 5000 armed guards.
Occasionally, even logistics trucks are emptied at gates to check for any prisoner hidden inside. It also contains one of the tallest guard towers in the world to keep an eagle's eye on even the slightest movement within the premises. A true "dungeon" indeed!
4-North Branch Correctional Institution, Maryland
This Supermax security prison commenced in 2003 as one of the foremost highest security prisons. It is deemed safe for even housing the worst of the criminals like cannibals, serial killers and even death row inmates. It houses approx. 1471 inmates. Its construction cost of about $175 billion makes it quite clear about its extensive security measures. Technologically, it's one of the most advanced prison which requires a minimal number of technical watch-officers.
A notable feature of this facility is its uniqueness of its build-style. Normally prisons are situated with watch towers at the outer side of the framework of the facility. However, the North Branch Correctional center features a center based watch tower with all the prison buildings around it. Last but not the least, to avoid prisoners breaking out or making potentially harmful weapons within their cells, ballistic-resistant glass has been used. All this boosts up the cost of hosting a prisoner up to $34,000 per annum!
3-Black Dolphin Prison, Russia
Home to almost 700 inmates, this prison facility has an astonishing 1:1.3 ratio of inmates to guards. This means that almost 900 guards are appointed for 700 inmates. Almost all the prisoners kept here are severely misbehaved ones facing life behind bars. To keep the layout of the prison secure from inmates, eyes are covered with a thick cloth while transportation to various blocks. The only recreation for inmates at this Supermax prison is a 90 minute exercise to relax themselves. A head count by the wardens every 15 minutes leave no gap in the security for any successful escape. Some inhumane conducts imposed on the prisoners include the restriction for them to sleep during daylight hours. This means that they have fixed and scheduled hours for sleeping and any extra sleep will cause them trouble.
Let me mention that the name "Black Dolphin" has been attributed to this prison because of a sculpture at the gate of the prison. Interestingly, this sculpture was designed by the prisoners themselves!
2-Souza Baranowski Center, Massachusetts
This prison facility makes its name due to its technological advancement. It has a reasonable capacity of 1024 inmates. Usually the number of inmates has always been below the capacity. Souza Baranowski Center is one of the American supermax prisons.
It holds the pride of being strategically designed by a highly qualified team from the famous institution, Massachusetts Institute of Technology. Its layout and systems were first planned on computer software and tested before putting them to practical work. It has a keyless system throughout the facility. All doors are centrally controlled from the control center. The camera system designed by the team covers almost every possible aspect in the prison 24/7.
A whopping number of 370 full High Definition CCTV cameras monitor the prisoners. The video record is kept safe for revision later on for any possible gaps in the security.  Even motion sensors are installed on each door to hint at the slightest escape attempt! It is also based completely on a renewable power source like solar power and hydroelectric. This means that all the electric powered systems cannot be switched off by a deliberate power cut by anyone as it has its own power supply.
A truly technology inspired prison for the notorious criminals!
1-Administrative Maximum Facility (ADX), Florence Colorado
This facility is built on a 37 acre land with a housing capacity of 490 Supermax prisoners. It has three separate sub-facilities of different security levels. Home to some of the most notorious mass murderers, this facility was created in 1994. It was created after a series of murders of correctional officers in the normal prisons. There was a dire need to host such prisoners in the securest cells in solitary confinement. The prisoners at ADX are locked down for 22 to 23 hours a day. With the latest statistics, the numbers of inmates subject to the Supermax security are 404.
The cells are guarded with double cell doors like first there's a sliding solid metal door, followed by a door made of solid metal bars and this sequence repeats one more time. This means 4 doors in total for one prisoner which makes it almost soundproof! Most of the prison is above the ground. The only part  which is underground is a corridor which links cell blocks.
ADX Florence also famous as "Alcatraz of the Rockies" tops the list of supermax prisons in the world.