Wife pranks husband with coyote in house and it doesn't go down very well. Well this is a hilarious story which took internet by storm. Read the details below.
It all started when wife Kayla Eby texted her husband a picture of COYOTE that she brought him in the house as he was cold and scared in the backyard.
The picture was obviously a coyote, a wild dog which is closely identical to the grey wolf.
Justin Bogh could not hold his temper and started shouting on her wife in a series of text. Kayla texted him a picture with caption "cute little dog" as she tell him that she was going to take him inside home.
She sent a 2nd message with subsequent picture of the "poor pup" sitting with their young son on the sofa.
A shocked Justin angrily asked for a divorce at first and then tell her she was "another level of crazy" as she brings a wild animal in house which is potentially harmful.
Husband got hyper and worried too much as Kayla, told him that the animal is "making weird noice and kinda pacing". Justin panicky replied to take their son and "go into the room and close the door".
Justin as well told her that he is on his way to home to protect the child and wife. Kayla reveled the whole story to him and told Justin that there was no coyote.
Kayla told him that was not a coyote, I know what a coyote is, and it wasn't even here nor in our house or at our couch… .It was photoshoped.
The confused husband when felt that he was pranked replied a most humorous answer. "I f******* hate you."
Read the whole story of kayla eby coyote prank in full text conversation below.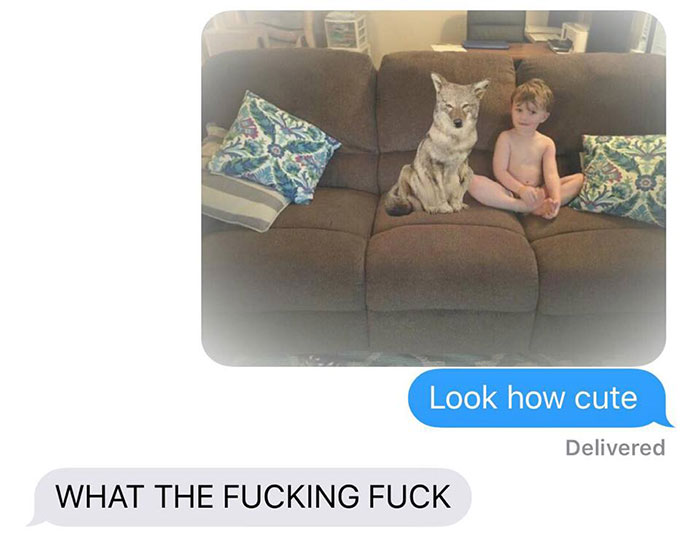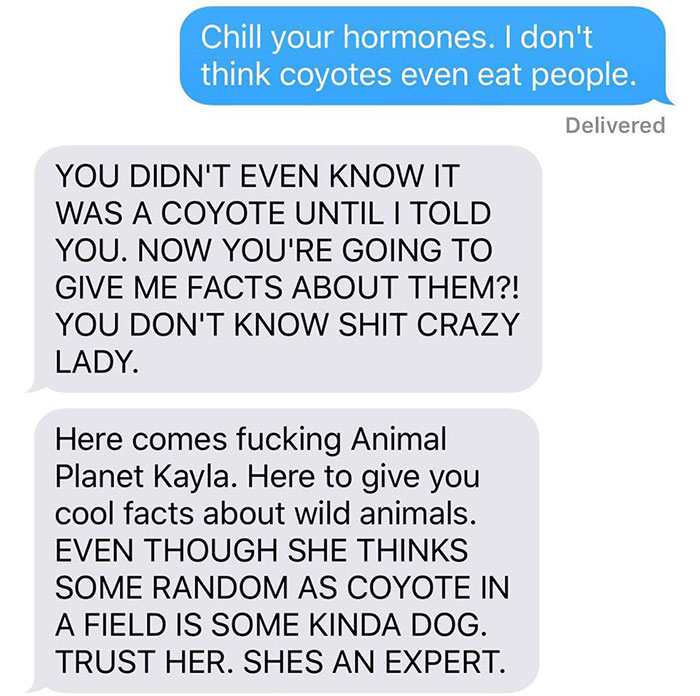 More info: Facebook
Image credits: Kayla Eby